Throughout its 200-year history, the grounds were small, overcrowded, bleak, and infested with insects. However, excavations at the site have revealed that when St Pancras Almshouse was opened in his 1809 year, it was intended to bring comfort to people who had fallen on hard times.
Archaeologists at Mora (Museum of London Archeology) were surprised to discover "significant portions of these original buildings" and "incredible new details about the lives of their inhabitants and masters."
Mora project manager Gwilym Williams said the evidence evoked "a very different picture of the workhouse than the dark, dingy workhouses often portrayed in popular culture, particularly in the writings of Charles Dickens".
Little was known about the building other than its shape, which appears on parish maps, but archaeologists have discovered its colorful plaster walls up to a meter high and the fireplaces that once warmed the rooms. discovered.
These discoveries provide insight into early 19th century almshouses, which were established to help the poor.
Prisoners were provided with accommodation and basic food, but they were forced to perform hard and repetitive tasks such as picking oakum and breaking stones, and were prevented from using the state.
New evidence suggests that St Pancras Almshouses may have started out more concerned with aid than deterrence. Williams said: "The facilities were modest, but the inmates weren't there to be punished… There was a garden, an infirmary, and a nursery. We are as aware of our needs as we are of paint."
Among the finds were institutional crockery with a plaque depicting an image of St Pancras' church and the words 'Guardians of the Poor St Pancras Middlesex', as well as bones with horsehair bristles. It contains the remains of a toothbrush, suggesting the importance of personal hygiene.
Built in 1809, the building was intended to house 500 prisoners. By the 1850s, that number had soared to 1,900. In 1865, a survey of London workhouse infirmaries in the medical journal The Lancet stated that "overcrowding…the wards in which overcrowding occurs are bound to be unhealthy."
Williams suggested the building might be the one featured in Oliver Twist, but Ruth Richardson's research for her 2012 book Dickens and the Workhouse cited Cleveland as a source of inspiration. – Street almshouses and people who lived near them have been identified.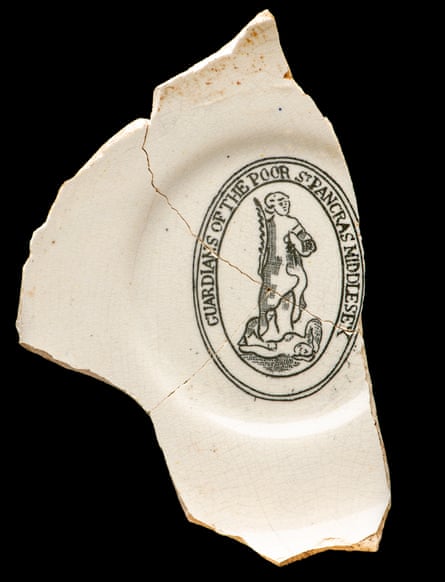 Peter Higginbotham Almshouse historian notes on website: Robert Blincoe, who is said to be the inspiration for Dickens' Oliver Twist, was a child prisoner in an overcrowded and insect-infested workhouse. Not only did Blincoe and his fellow inmates receive a rudimentary education, he was sometimes forced to work more than 12 hours a day in prison. The unpleasant task of collecting sawtooth oaks"
Dr. Leon Litvak, Chief Editor of the Charles Dickens Letters Project, said: His involvement with the workhouse is a case in point. Dickens was passionate about exposing the conditions that persisted in many workhouses across the country, as well known in novels such as Oliver Twist and Our Mutual Friend. . But these works of fiction soften or sanitize their descriptions so as not to offend their avid readers. But his journalism was something else. There he was more frank, filling his reports with ridiculous details from his personal observations. "
Furthermore, "Dickens himself did not write about St. Pancras Almshouses, but his friend and contributor Henry Morley wrote: [1861] An article entitled "The Frozen Pauper Law"… Dickens sent him a description he had received from a friend of a female beggar waiting for a bread doll in the frigid cold at St. Pancras Almshouse. The conditions in which the poor were forced to wait were such that they were discouraged from coming to pick up bread in the first place. "
In 1929 St Pancras Almshouse became St Pancras Hospital, but during World War II parts of it were bombed and some of the almshouse buildings were demolished.
These are the areas that archaeologists excavated prior to construction. oriel, a center for ophthalmology care, research and education. This is a joint initiative of Moorfields Eye Hospital NHS Foundation Trust, UCL Eye Research Institute, and Moorfields Eye His Charity.
"It's ironic but heartening that the site of such abuse is being transformed into a new, modern eye care center, where more than 160 years ago We believe that they will receive excellent treatment." "